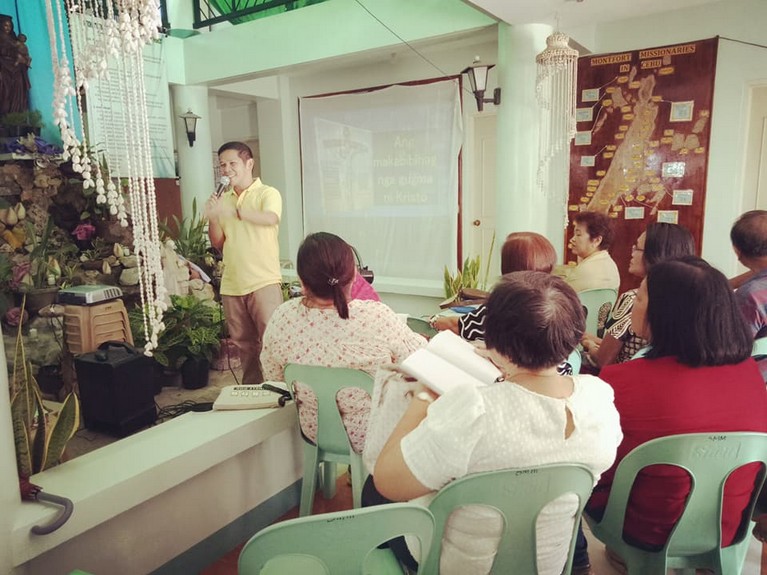 Lent is the season of abstinence, fasting, sacrifice and reflection. As a yearly tradition, Montfort Missionaries-Cebu organizes a Lenten Recollection each year in order to provide the Totus Tuus Journeyers (TTJers) and the invited participants an opportunity to make them worthy to share in His Resurrection. The recent recollection was held on March 18, 2018 at SMM Cebu Mission House in Lower Calajoan, Minglanilla. It is amazing to see how many TTJers from Batch 1-15 came to the event.
The recollection began with an opening Mass at 8:30 AM with Fr. Sherwin Nuñez as the presider and homilist. He warmly welcomed all the participants in the recollection with the theme: "The Captivating Love of Jesus Christ, Incarnate Wisdom: The Power of the Cross."
Fr. Sherwin talked about the gentleness of the looks of Jesus and that He is the human face and the exact representative of God. He also added that it is because of love that we confess our sins. All the participants were then asked to share their thoughts and insights about the recollection's theme, personal reflection and experiences among the group. A lot of the participants shared that we should be grateful for all the blessings that we receive. Some also shared that we experience the grace of the Lord when we receive these blessings, which bring joy and hope to each of our families. We also realized that we should respond to the role and power of the cross in our life. The participants then had their lunch after the morning session. After lunch, the participants revisited Jesus' passion and death through the Station of the Cross.
Right after the Station of the Cross, Bro. Nick Catingan gave the last talk of the day. He talked about how the cross became a symbol of power and wisdom. It is also an emblem and weapon of His faithful people. Aside from that, he also said that the cross is the proof of God's love for us and it represents abundance of grace, life and happiness. Most importantly, it signifies salvation and resurrection.
The recollection was closed with a Penitential Rite led by Fr. Sherwin wherein we reflected on the sins we committed and wrote them on a piece of paper. The papers were then burned. This activity made us humble ourselves in front of God and admit our mistakes. It is by humbling ourselves that we receive God's gift of forgiveness and salvation.
The TTJers were full of gratitude and appreciation for the opportunity to come together. Everyone left the recollection with a renewed enthusiasm for the coming Holy Week.