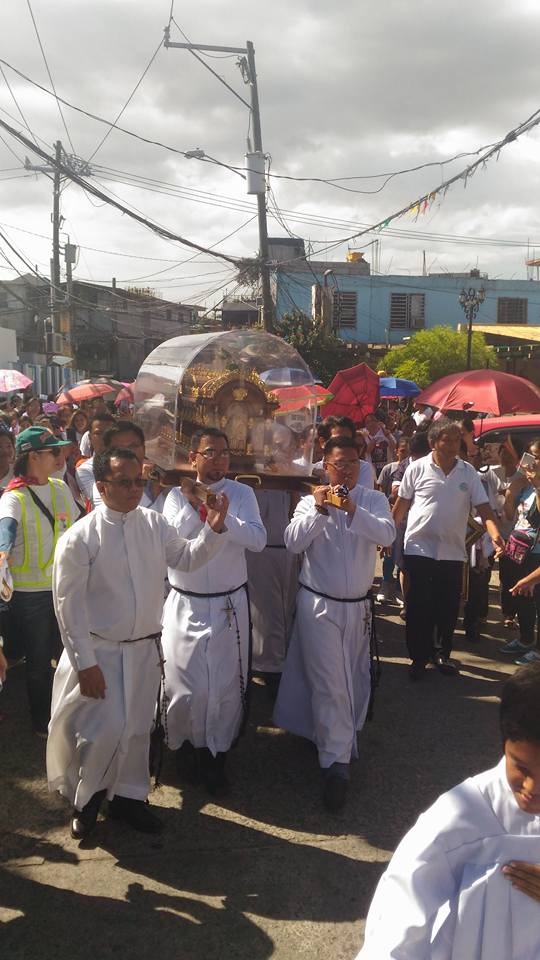 On February 21-22, 2018, the Pilgrim Relic of St. Therese of the Child Jesus visited Sta. Teresita Parish for the second time. It was a blessing for the parish to be visited by the relic of St. Therese on its 25th foundation anniversary.
At around 2:00 PM, the parishioners of Santa Teresita warmly welcomed the relic of St. Therese. It was also attended by the school children with their parents, Montfort Scholastics, Novices, Collegians and some Montfortian priests. The relic was carried in procession by the Montfort scholastics and Novices to the church. It was then followed by a welcome liturgy which was presided by Rev. Fr. Richard J. Magararu, SMM, with Rev. Fr. Angelito Pusikit, SMM and some Montfortian priests. Upon arrival in the church, the relic was venerated. After praying the Holy Rosary, a movie about the life of St. Therese was shown. It was highlighted by a Eucharistic celebration which took place in the evening and was presided by the Parish Priest of Sta. Teresita Parish, Rev. Fr. Richard Magararu, SMM together with the Montfortian Priests as concelebrants. In his homily, he emphasized the virtues of Santa Teresita; her humility, faith and her "Little Way" Spirituality. Fr. Richard had challenged the faithful to imitate the said virtues of Saint Theresa and her "Little Way" in serving the Lord through His people. He added that as we celebrate the year of the clergy and consecrated persons, we need the example of Saint Therese to carry out our mission as followers of Christ, that is, to make heaven here on Earth. The public veneration of the relic resumed right after the Eucharistic Celebration.
The program of activities continued in the evening with a Youth Mass, Vocation Talk and a prayer vigil until dawn. At around 7:00 in the morning, a farewell Mass and Offering of Flowers culminated the Visit of the Relic of St. Therese. It was then brought to the Lay Formation Center of Guadalupe, Makati City.
-
Bro. Ronald B. Baruela, SMM