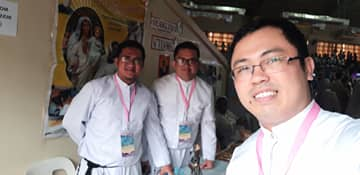 On November 9, 2019, the Vocation Team, Bro. Armel R. Collantes, SMM, Bro. Francois Leonard P. Ancheta, SMM and Bro. Lester C. Bonete, SMM and with the Daughters of Wisdom, represented by Sr. Elena T. Aying, DW participated at the 6
th
Vocation Festival held at the Diocese of Malolos, Victory Coliseum in San Rafael, Bulacan.
Together with the delegates of the Archdiocese of Manila, the SMM Vocation Team joined them in the bus from San Carlos Seminary, Makati City at around 5:00 AM going to the venue. After two hours of travel, the group finally arrived in the place. The program started at 8:00 AM with a Ceremonial Welcome by the hosting diocese, with an Enthronement of the Jubilee Cross and the Statue of Our Blessed Virgin Mary. Afterwards, a Creative Sharing of Gifts followed.
The highlights of the Vocation festival were the Vocation talks on the theme: Buhay Kabanalan, Bokasyon ng Bawat Kabataan"
and the Eucharistic Celebration at 10:30 AM, which was presided by the new Bishop of Malolos, Most Rev. Dennis C. Villarojo, DD, concelebrated by the priests of the Diocese of Malolos and the Vocation Directors of the participating dioceses.
After the Holy Mass, everybody had their lunch. Before the start of the afternoon program, young men and women from different dioceses had visited the booth of the different congregations. In the afternoon, the hosting diocese invited a celebrity speaker to inspire the youth in discerning their vocation, in the person of Mr. Michael Angelo Lobrin, a former seminarian at San Carlos Seminary and now a TV Personality. After the talk of Mr. Lobrin, Socials and Programs followed with a contest of creative presentations which were participated by the dioceses.
The 6
th
Vocation festival, ended with a Closing Liturgy at 5:00 PM led by the Diocese of Malolos. Everyone went home with joy in their hearts especially the youth who participated in the vocation festival.
-
Bro. Armel R. Collantes, SMM