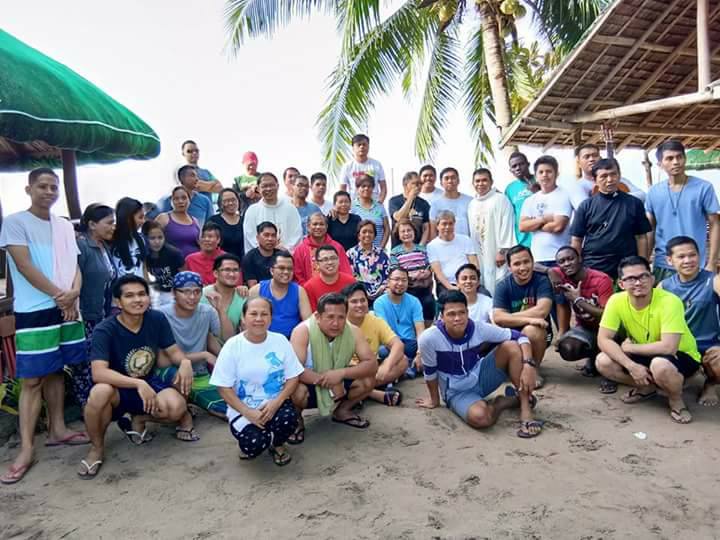 Before the liturgical calendar ends, the Montfort Missionaries in the Philippines had their Delegation Outing together with their respective community staff last November 29-30, 2017 at Laiya, San Juan, Batangas. Though it was a long travel and reaching the place in the evening, the joy of being together remained. After the dinner, a social-recreation night followed, wherein all the communities participated in the said activity. The variations of games, of sharing of experiences and of cultural presentations was part of the program and everyone really enjoyed the night full of learnings and fun.
On the next day, a Eucharistic celebration was offered in the feast day of St. Andrew, the Apostle, as a thanksgiving for all the blessings received by the whole delegation. It was presided by Rev. Fr. Richard J. Magararu, SMM, Delegate Superior. In his homily, he emphasized that as Christians and as religious – montfortian we should not let the problems, difficulties and the feeling of dryness reign in us and replaced the JOY that has given to us by God. He reminded that people are more motivated when they see in us that JOY of serving. Before the mass ended, he also thanked the generosity of the family (resort's owner) for accommodating the whole delegation in the said event.
As the day continues, the community-championship game (volleyball – Yellow vs. Blue) was carried on and the Yellow Team won the game; while others relished the moment in swimming, chatting and boat ridding. A simple and yet very nice food was served by the owner of the resort during lunch time. On their way back home, inside the bus, the prizes were given and some announcements were made. Two days of togetherness and sharing gives each one to be recharged to continue the mission and be filled with JOY in service to God alone.
-Bro. Precious Fukizi, nSMM