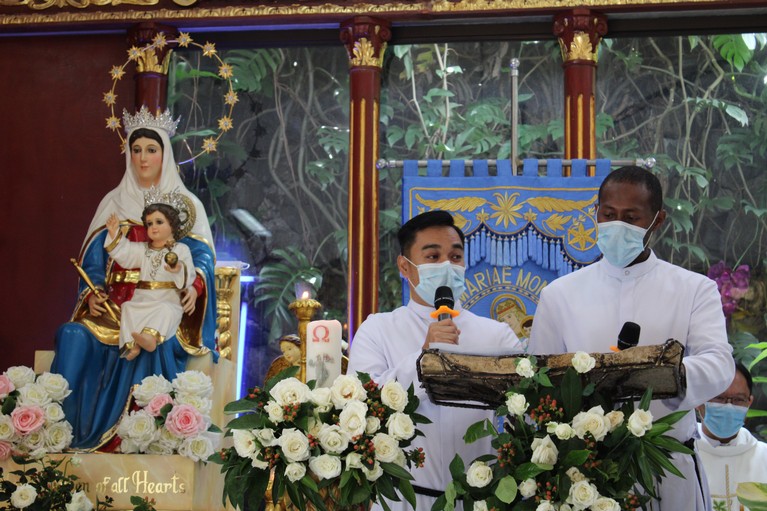 QUEZON CITY, Philippines- On August 1, 2020, the two novices: Bro. Oliver D. Abasolo and Bro. Michael Hilton Kava finally made their First Profession of Vows after an intensive one-year novitiate formation. The simple yet joyful ceremony was held at the Montfort Center of Spirituality, Scout Madriñan, South Triangle, Quezon City at 10:00 in the morning. The Holy Eucharist was presided over by Rev. Fr. Norwyn V. Baydo, SMM, the Philippine Delegation Superior, together with his council members, Rev. Fr. Paul Arnel L. Lucero, SMM, the Novice Master, and Rev. Fr. Santiago E. Casing, SMM and the rest of the confreres as concelebrants.
This year's first profession and renewal of vows is "one of a kind yet very special" since it happened during the COVID-19 pandemic where religious gathering is still not allowed and the celebration has to be attended only by the members of the SMM Philippine Delegation priests and brothers. However, the families, lay associates and friends of our novices and scholastics were able to celebrate with us through the Facebook Live Streaming of the entire celebration.
During the homily of Fr. Norwyn, he emphasized on being joyful missionaries of today in our service to the Church as a Religious Montfortian. He added that, in our becoming joyful Montfortians, we have been so much blessed by the Lord and we ought to share these blessings to others and be God's blessing to all.
After the homily, the novices then made their profession of vows and was accepted by Fr. Norwyn Baydo, SMM, representing the Superior General. The newly professed brothers: Bro. Oliver D. Abasolo, SMM, and Bro. Michael Hilton Kava, SMM were then applauded by everybody after they have received the big Rosary along their waist and The Constitutions of the Company of Mary.
Afterwards, the Eight Scholastics have made their Renewal of Vows. They were: Bro. Francois Leonard P. Ancheta, SMM; Bro. Ronald B. Baruela, SMM; Bro. Armel R. Collantes, SMM; Bro. Lester C. Bonete, SMM; Bro. Harold Anthony T. Montoya, SMM; Bro. Jumamildar S. Sawitan, SMM; Bro. Lord Ansel Glenn N. Bongcas, SMM; and Bro. Christopher S. Mejia, SMM. The two other Scholastics: Bro. Samuel M. Gonzales, SMM and Bro. John Michael G. Uy, SMM have made their renewal of Vows in Montfort Mission House in Minglanilla, Cebu and was received by Rev. Fr. Rene S. Bustillo, SMM, local superior of SMM Cebu Mission Community, representing the Superior General.
The Eucharistic celebration ended at around 11:45 AM. Afterwards, everyone headed towards the Delegation House at 9
th
St., New Manila, Quezon City for a simple yet splendid lunch which was shared joyfully by everyone.
It was indeed a grace-filled moment praising God through Mary for the gift of vocations to the Religious Life to the Church.