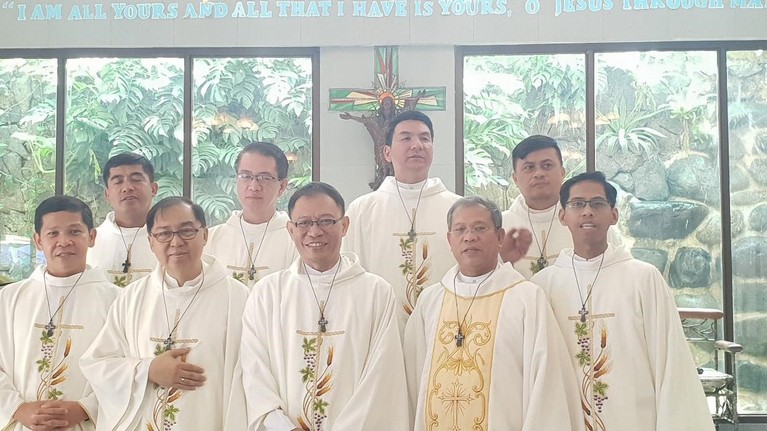 The Montfortian community in the Philippines gathered on May 31, 2018, on the Feast of the Visitation to celebrate the gift of Consecrated life. It was held at the Montfort Center of Spirituality in South Triangle, Quezon City. The event was held to commemorate the first profession of all perpetually professed members.
The celebration started at 9:30 am, with the Eucharist Celebration presided by Fr. Richard Magararu, SMM. Present were the scholastics, novices, family members and friends. In his homily, Fr. Magararu reminded the confreres on the importance of the on-going formation and conversion of every religious. According to him this is also the call of the the Church in Philippines as it celebrates the Year of the Clergy and Consecrated Persons with the theme Renewed Servant Leaders for the New Evangelization . After the homily, all the perpetually professed confreres renewed their vows. As a symbol of their renewed commitment they were given a cross made of marble stone where Montfort's motto "God Alone" is etched.
At the end of the Mass, everyone offered flowers to Mary while singing the lively song "Flores de Mayo".
The following confreres in their number of years of profession including those who were not present were remembered:
Fr. Ariel Aquino, SMM 30 years
Fr. Richard Magararu, SMM 30 years
Fr. Angelo Pusikit, SMM 28 years
Fr. Reynaldo Bullas, Jr., SMM 25 years
Fr. Paul Arnel Lucero, SMM 25 years
Fr. Nelson Cabañero, SMM 25 years
Fr. Norwyn Baydo, SMM 19 years
Fr. Roy Millano, SMM 19 years
Fr. Francis Tacio, SMM 17 years
Fr. Sherwin Nuñez, SMM 14 years
Fr. Rene Bustillo, SMM 12 years
Bro. Reynaldo Silverio, SMM 12 years
Fr. Santiago Casing, SMM 11 years
Fr. Federick Yumang, SMM 11 Years
Fr. Benjie Notarte, SMM 10 years
Fr. Arnel Pagaduan, SMM 10 years
Fr. Gener Pito 7 years (1 Aug 18)
- Fr. Richard Magararu, SMM