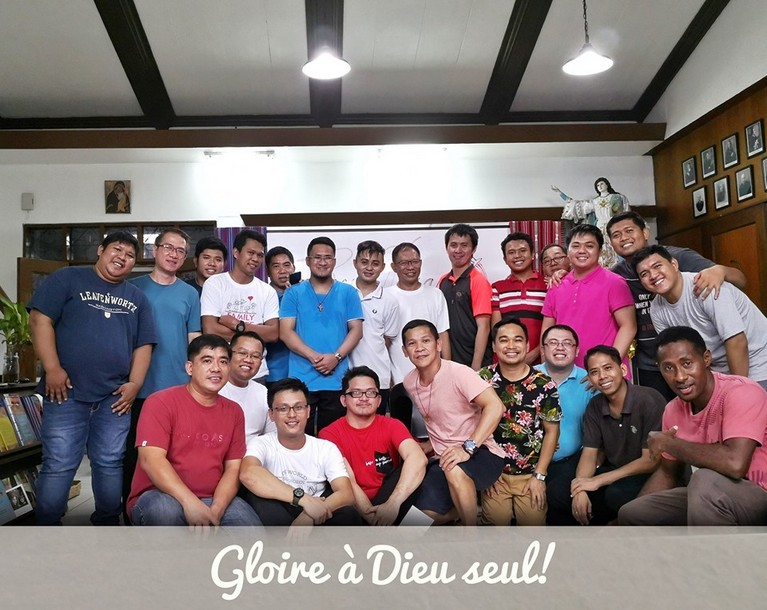 NEW MANILA, Quezon City
– Last August 27, 2019 at exactly 7:00 p.m., in the Delegation House, the Montfort Community celebrated a Despedida Party for Fr. Sherwin Nuñez, SMM, who was scheduled to fly to Canada the next day, 28
th
August 2019, for his studies.
The said event was attended by the different Montfortian communities and each of them prepared a presentation. The Collegians and Postulancy Communities rendered a Cebuano Song entitled,
Ang Kalig-on Sa Pagtoo
which means The Firm Faith. Then followed by the novitiate community who gave their heartfelt message to Fr. Sherwin. They presented a magic card trick much to the delight of the audience. The Scholastics, on the other hand, performed a group dance for the entertainment of everybody. A group presentation was also given as they sang Love is the Answer for him. Then the delegation superior, Fr. Norwyn Baydo, SMM gave a short message to Fr. Sherwin telling him of the love and support of his Filipino confreres. He added that the community will always remember him in prayers and that all are very happy for the generous response of Fr. Sherwin to be available for this opportunity for the benefit of the Philippine Delegation and the Congregation as a well. Fr. Sherwin was also given the opportunity to say some few words of gratitude and thanksgiving towards everyone. Then again, the community serenaded him with another song, entitled
Farewell To You My Friends
.
After that, Fr. Norwyn led the sending off blessing for Fr. Sherwin together with all the prayers of those present. Truly, it was a memorable evening filled with joy and laughter as they give their best wishes and inspiring personal messages to Fr. Sherwin as he moves forward towards the next chapter of his religious journey.
There are really no sad goodbyes but only smiles on their faces saying until we meet again. Mabuhay ka Fr. Sherwin!!! God be with you all the time and see you soon.